Welcome to Long Eaton Patchwork Furniture
Welcome to the Long Eaton Patchwork Furniture where you can purchase online top quality Patchwork Sofas, Chairs, Wing Chairs, Snugglers, Chaise Longues and Footstools. By buying on this website you can save £100's by buying direct from us the manufacturer rather than a retail store or website.
If you have been searching for the highest quality patchwork furniture made in BRITAIN in stores and on websites you will already know that upholstery made in Long Eaton is cosnsidered the best constructed upholstery in Britain today. However, they retail at anything from £1,000 to £2,000 which puts them beyond some customers price bracket. NOT ANYMORE. Buy from this website and you will get the best quality upholstered chairs from as little as £399 and sofas from as little as £699.
These pieces are unique, so if you like it, buy it, as they'll never be one the same.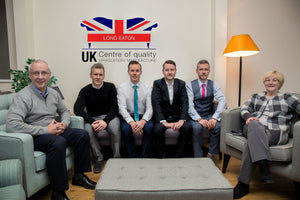 All the upholstered pieces on this website are manufactured by our family owned specialist upholstery manufacturing factory Long Eaton Sofas. They all come with a 30 year guarantee on the frame which is made in house from kiln dried Birch hardwood. All the padding is manufactured from foams supplied by Vitafoam, Europes largest and tecnnically superior foam producer. All the fabrics are tested to make sure that they exceed the rub tests for general domestic upholstery or even contract use. Our patchwork pieces are simply top quality pieces supplied direct to the public to save the high mark up of 250 to 300% by the retailer.
ORDERING ONLINE IS EASY
1) SELECT THE PIECE OF PATCHWORK FURNITURE THAT YOU WISH TO BUY. THEY ARE ALL UNIQUE AND YOU WILL BE BUYING THE EXACT PIECE THAT IS ON THE WEBSITE.
2) ADD YOUR SELECTION TO THE SHOPPING CART
3) ADD FURTHER ITEMS OR COMPLETE THE SALE WITH YOUR PAYMENT AND DELIVERY DETAILS.
YOU WILL RECEIVE A CONFIRMATION OF YOUR ORDER AND THEN IN LESS THAN TWO WEEKS YOUR UNIQUE PIECE OF PATCHWORK FURNITURE WILL BE DELIVERED.
Please visit our other websites if you require other pieces of High Quality Upholstery. 
Do you need a Sofa, Chair, Snuggler or Corner Unit made to measure, manufactured in leather or in the vast range of Designer fabrics available on the market today? Visit our website https://www.longeatonsofas.com
Need a Top Quality Upholstered Bed or Headboard to last? Visit our website https://www.longeatonbeds.com
Every piece of furniture is lovingly hand crafted in our Long Eaton factory
Our furniture is not just British made, it is designed and hand-made in our factory in Long Eaton, an East Midlands town which borders both Nottinghamshire and Derbyshire and which has been known for generations as the centre of upholstery manufacturing in England. Click on the video below to see the manufacturing process.